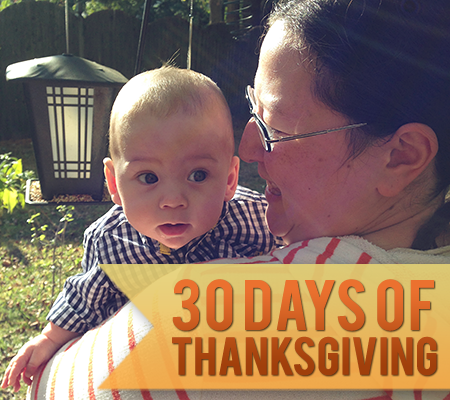 Over at Disney Baby today, I talk about a little experiment I'm trying every day this month in honor of Thanksgiving: the #ThanksgivingProject. Every day this month, I'm going to take some time to stop and name something for which I'm grateful about being Judah's mom.
It's a new spin on a concept known as a gratitude journal, and in this season of thanksgiving and thankfulness, I don't want to take for granted any of these special moments with Judah.
Here's how it all started:
On the first day of November last week, when I decided to do start this #ThanksgivingProject, Judah was napping. As I watched the slow rise and fall of his little chest and belly as he slept, I thought to myself: "I'm so grateful for his breath."

It might sound like a strange thing for which to be grateful, but it made me think of his first breath: the moment he arrived howling and screaming into this world. I then thought about the day he got out of the hospital, after 29 days in the NICU. I was so excited for him to take his first breath of fresh air outside!
You can read the rest over at Disney Baby today.
So far this month, I'm also grateful for Judah's abundant appetite, his ability to sleep through the night and his sense of wonder and curiosity.
Every day for the rest of this month, tune in here and on Twitter for a daily moment gratitude for my son. And if you or someone you know is going through infertility, head on over to The Infertility Voice for my infertility-themed #ThanksgivingProject.