Through a unique opportunity with Larry's job, I got to tag along on a truly once in a lifetime trip to Times Square for New Year's Eve this year.
What made this opportunity so unique is that I wasn't one of the million people down between the barricades on the streets along Broadway and 42nd Street - we were perched on the 5th floor roof of the Minskoff Theatre, where Disney's The Lion King currently runs!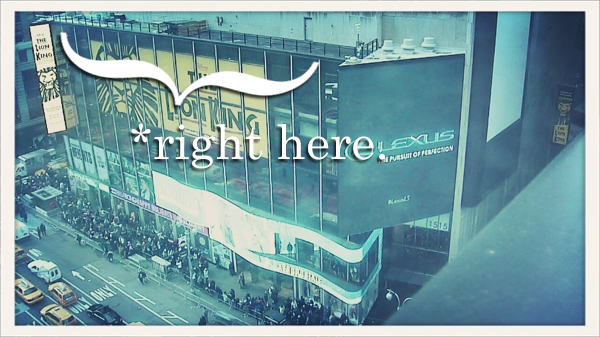 From the rooftop, our view spanned this panorama down Broadway – and this is only half of our view:
Just getting into Times Square on New Year's Eve afternoon was an ordeal of its own. Larry and I each had special security letters we had to show to a number of NYPD officers and Minskoff Theatre security guards. It was intense to say the least. They do not joke around when it comes to security and authorized access. We very specifically had to enter at the intersection of 45th and 8th Streets.
Because of all this literal gatekeeping, getting dinner was… a bit challenging. With the Starbucks at the Marriott next door pretty much our only option, our dinner consisted of a goat cheese and veggie box, a slice of banana nut cake, and a tiny bag of dried fruit.
A good portion of the night was spent in a tiny corner of the fifth floor behind massively loud duct-work, where Larry and his colleague did some last-minute content creation and programming of large LED displays on the front of the theatre. By 11pm, their work was done and it was time to head out and watch the spectacle below.
Once the ball dropped, it got CRAZY in Times Square!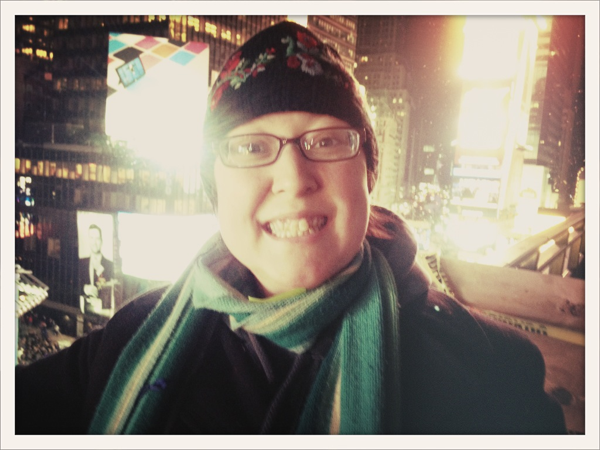 Amazingly, the heart of Times Square managed to clear out by 12:30. It was an incredibly well-oiled machine. Despite the cold, the wind never really picked up and with the temperature at about 40° we didn't freeze our butts off. We were lucky: we had access to the indoors, chairs and a bathroom. I have NO idea how the million people on the ground did it, and they were standing out there as early as 4 o'clock that day… with no bathrooms.
Since we were starving, we walked several blocks to find a taxi (which was a damn miracle of G-d that we got one without having to wait too long) and we high tailed it to the Green Kitchen in the Upper East Side. With the lack of a real meal for nine hours, I had a bit of a mini-exhaustion/hunger/nearly-passing-out meltdown over a plate of mozzarella sticks and chicken fingers at 2 in the morning. That said, despite the end of the night tears, I had an incredible experience.
And… I got to come home with this lovely souvenir, courtesy of Nivea (the official #KissoftheYear sponsor for New Year's Eve):