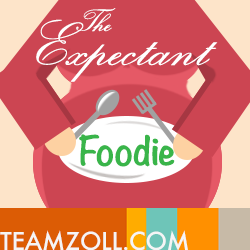 Welcome to the first (of many) entries in my new food porn photo and recipe series, The Expectant Foodie. As a foodie, I have a deep and abiding love for soft, runny, small batch cheeses, craft beer, jammy red wines, sushi, sashimi, and smoked meats.
Sadly, many of my gourmet delights are now verboten during pregnancy. As much as I'd love to introduce the Knish to the finer tastes in life, he/she will have to wait until their older.
In between battling intermittent but brutal nausea, whacked out aversions (goodbye melting butter in a pan) and overwhelming cravings (must eat ALL THE BEEF), the menu for an expectant foodie is one that changes daily and even hourly. As someone who has had issues with food for much of her life who's struggled with her weight, I've been constantly worried about everything that goes into my mouth with this pregnancy. In fact, I've actually lost 8 lbs simply because of metabolic changes and a waning appetite.
For a while, all I was eating was apples, like, hand over fist. Then all I wanted was sour things, especially when my nausea got really bad weeks 8-10. Then, I couldn't eat enough dairy. For a while, I was convinced I was pregnant with a cow's calf: my diet consisted exclusively of Greek yogurt, sharp cheddar cheeses, chocolate milk and randomly, LIFE cereal. Oh, and orange juice. I go through a box of LIFE and a quart of orange juice each week.
As someone who thrives on a diverse diet, I've struggled with meal monotony as of late, often at the whims of my ever changing appetite and bouts of nausea.
It's tough to be an expectant foodie. But – there is hope.
Let's start with one of my favorite types of meals: tapas.
I love tapas, having been introduced to it when we lived down in Maryland. I like to think of tapas as the picky eater's tasting menu. Instead of letting the kitchen dictate your courses, you pick little tastes and bites on your terms.
Right now, my favorite tapas place is Alchemy Bistro in Gloucester, MA. Their menu is new American, with an emphasis on locally-sourced ingredients. From their seared sugar pumpkin pierogies to their crispy fried local turnips with a lemon and thyme aioli: folks, if you're ever up in the North Shore area, you've got to take a night to splurge on their small plates menu. Bonus: this restaurant owner is opening up a fifth restaurant in the region, Opus, just a few blocks away from us.
Larry and I love to do cold tapas at home. We usually hit up the Whole Foods and come home with a bevy of stinky cheeses, cured meats, crusty bread (or even better, Larry will make a baguette from scratch) and a nice bottle of jammy red wine or a briny white. Sometimes we'll even roast a whole garlic head in a ramekin of olive oil, smearing the roasted garlic cloves into a golden caramel paste on our bread.
Unfortunately, most of the cheeses in the cheese case at my local Whole Foods are unpasteurized, as are most runny cheeses, generally speaking. (I was at a party yesterday where the hostess had an hors d'oeuvres of brie chunks, green pepper and bacon that I sadly had to pass on.) And most cured meats are out, since they're filled with nitrates and carry a listeria risk. And obvs: no bueno on the wine.
But that doesn't mean a pregnant lady can't make a marvelous DIY cold tapas spread for herself! It's all about swapping out the verboten items for safe (and tasty!) alternatives.
DIY Cold Tapas for the Madre-to-Be
Here are some ideas to get you started with trying out your own safe and healthy DIY cold tapas during pregnancy. First, let's take a look at what I used for my tapas-style dinner this past Sunday: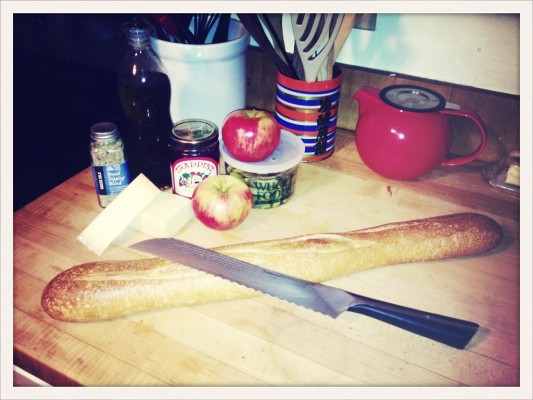 Now, let's break it down, plate by plate.
Cornichons.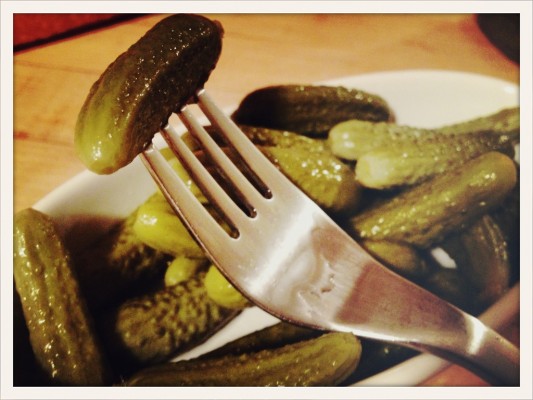 I always thought it was funny how people joke about the pickles and ice cream thing with pregnant women. Yeah, I get it now. I could eat fistfuls of either (just not at the same time). Cornichons are my favorite type of pickles: dainty, tiny, and more sour than your regular pickle. Pro-tip: save the brine to make a killer potato salad.
Hard cheeses.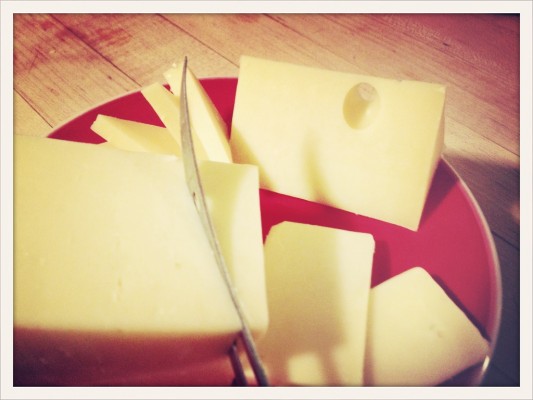 So long as it's pasteurized, you can eat it without fear. While most runny cheeses are out, there are many cheddars, goudas and even manchegos that are still perfectly safe to eat. Just be sure to read labels or ask your fromagère. For this meal, I went with a small brick of Cabot sharp cheddar and robusto, a very fruity, sharp aged gouda.
Honeycrisp apples.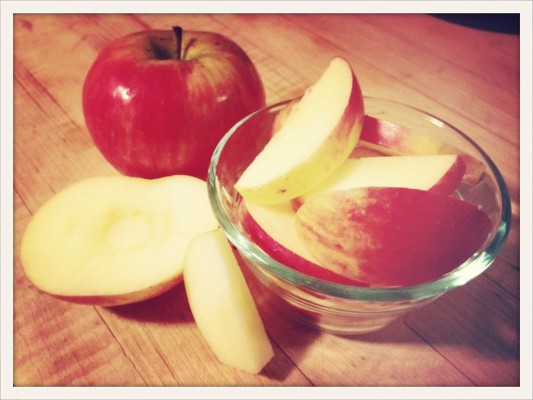 I wanted something with a meaty texture since I can't really have salami or prosciutto, so I decided to keep it healthy and opted for some fragrant apples. Honeycrisps are my favorite!
Crusty bread, dipping oil, jam.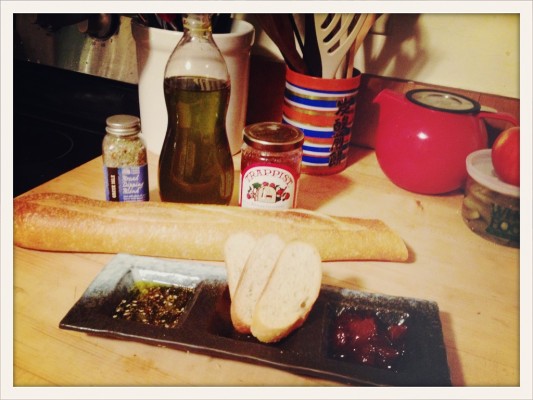 I bought a baguette from Panera (only $3!) and had a little jar of dipping oil spices. You can make your own with dried garlic, dried onion, a dash of salt, some dried red pepper flakes and then Italian dried seasoning. For an extra zip, zest a lemon or an orange and throw that in too. Mix it all up with your favorite olive oil. I cut the baguette into slices and toasted them in the oven to get them nice and crispy. Usually, I have my cheese with fig spread but we're plum out. I settled for a lovely strawberry and rhubarb preserve instead.
Sparkling cider.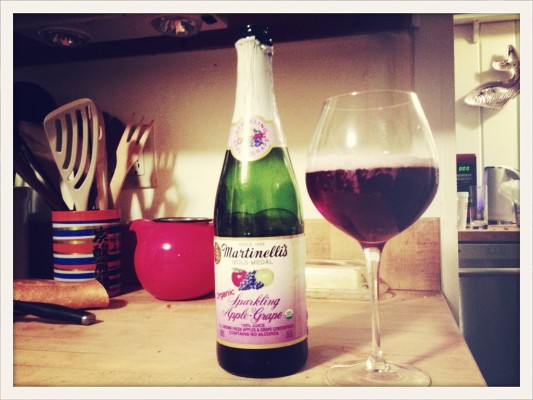 Since a bottle of beaujolais was off limits, I opted for Martinelli's sparkling apple-grape cider instead. I still get to play foodie by pouring it in my big girl wine glass

And there you have it. Tasty DIY Cold Tapas for the Madre-to-Be.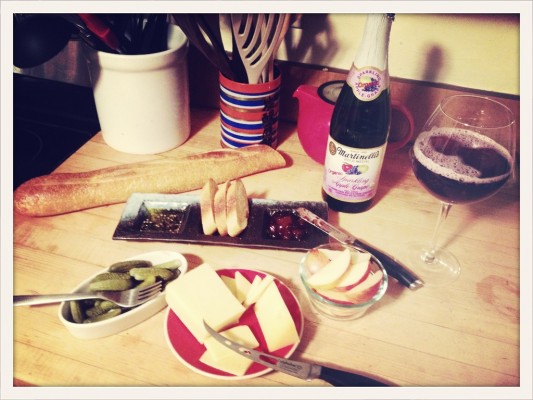 I hope you enjoyed the first of what I hope will be many installments of The Expectant Foodie.
Until next time, Bump Appétit!