In addition to working a marvelous Graco event at Babies R Us two weekends ago, I also had the very unique privilege to attend a Graco Home Party last Thursday, hosted by the ever-lovely Charlene of CharleneChronicles.com and the very posh salon, MiniLuxe in Wellesley, Mass.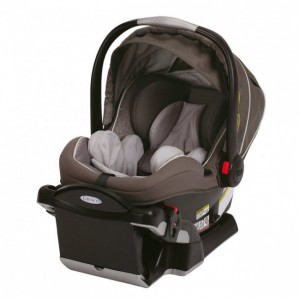 In addition to my lovely mini-mani and the opportunity to connect with other area parenting bloggers, I got to take home my very own Graco SnugRide® Click Connect™ 40 car seat!
Here's what I know about car seats: [ conspicuous empty white space ]
Over the last two Graco events, I've learned a lot about car seats and boy howdy, are things different from when I was a wee one myself 30 years ago. I wasn't necessarily one of those kids who sat in her mom's lap while she drove (at least, I don't think I was – I hope not!) but I certainly don't ever remember having a booster seat, which is apparently a thing. And now, the American Academy of Pediatrics recommends that children up to two years should be rear-facing in their car seats. Enter: Graco's new car seat.
Here are the important things I learned about Graco's SnugRide® Click Connect™ 40 and why I'm super psyched that we now have our own:
It's the only infant car seat that provides rear-facing protection for babies from
birth to 2 years old, as recommended by the American Academy of Pediatrics. Word!
It fits children up to 2 years and 40 lbs. I know nothing about how babies scale in size as they grow, so yay?
The base adjusts with 8 reclining positions to give your baby the most leg room as they grow. This already sounds like more leg room than most planes provide.
The new Click Connect™ attachment allows parents to easily transition their babies from the car seat to the stroller through a simple, but secure, one-step "click." I have seen this clicking in action and it's pretty damn awesome. Especially since I'm not what one would ever call "graceful.
Ours is currently sitting in my husband's office because we haven't really figured out where baby things should go yet. It comes in two colors and we got the pink one – here's hoping we have a girl (despite what the psychic may have told me this past weekend). I'm looking forward to getting the matching stroller at some point: reasonably priced and pretty damn schwanky looking.
For those of you parenting, what are your must-have baby items? What baby-wrangling tips do you have for getting your child in and out of their car seat?

The Graco SnugRide® Click Connect™ 40 – the first and only newborn to two-year infant car seat that actually grows with your baby from four pounds all the way up to 40 pounds. The car seat is designed for a parent on the go. The infant car seat can be easily removed from the base and used as a carrier when the infant is small, providing portability and convenience so you can easily move your infant in and out of the car without disturbing them.
The American Academy of Pediatrics recently made the recommendation to keep all children in rear-facing car seats until the age of 2. Graco set out to make this product so parents can keep infants rear facing longer while still keeping them comfortable.
This is a sponsored post written by me on behalf of Graco. The opinions and text are all mine.